I was planning our French studies for the coming year, so while the decisions are fresh in my mind I decided to create a post to share what my family has done. I trust it will be helpful.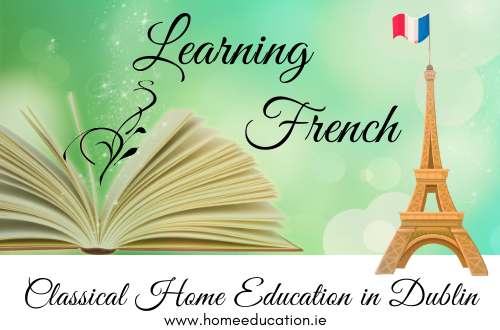 Aim ~ Early Years ~ Older children / Teens ~ Stories to listen to ~ Stories to read ~ Songs in French ~ Phonics app ~ What didn't work for us ~ Charlotte Mason in French/France
Aim
I wanted my children to start a foreign language early so they could pick up the pronunciation. My hope for the future is they will be able to communicate in France and be able to read in French. While learning French they are learning about France, French history and French culture.
I wanted my children to be listening to a native speaker when they were young, and not listening to me butchering the pronunciation, so that reduced the options that I have looked into for supporting my children in learning French.
I find it helpful to use Charlotte Mason's advice as a guide generally. She advocates spending two years listening and speaking a language before reading and writing. Charlotte Mason curricula usually encourage picking a song per term to learn. In addition to the French classes my children are doing this year, I wanted them to listen to, and in my older daughter's case, read French stories. Their French classes are weekly and I want them to have exposure a few times a week.
Early Years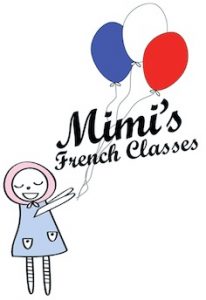 For us, when our children were young they went to the lovely weekly in-person classes that Mimi's French offers in South Dublin. Hélène and Angie are great at encouraging active learning, telling stories with props, singing and making enjoyable arts and crafts and really getting the children happily involved.
For example, the children could be painting an egg box blue and filling it with real seashells and cut out fish and starfish, while learning the names and colours of each thing in French, and then learning a song in French about the seaside. During Covid Mimi's French classes moved online and they now offer French classes online and in-person. Their online classes for ages 3 to 8 years olds are 30 minutes long, so the right length for younger children. Sets of classes run for 6 weeks. Even online the classes encourage active learning with my son on his feet doing the actions to songs. He is now in the older class, ages 8-12, for children continuing with them, where they are now learning to read and write a bit, but the seatwork activities are active and fun, including games like bingo. Mimi's French send a pack with a few colour pages to print at the beginning of each new series to be used during the class, and glued into a French notebook after class. Having been with Mimi's French for many years now, I can happily recommend them.

Older children / Teens
Cliona of Get Ahead Grinds / Young Language Learners is a home educating mother and experienced secondary school teacher who offers online classes in French and German, including weekly 45 minutes classes in the morning/midday specifically for older home educated children, ages 9 -15. My daughter has completed a year in her French Intermediate class and has really come along in her reading of French. Cliona assigns homework – It is optional, but my daughter always does her homework as I feel it is an important review. Cliona also posts a weekly video on the current grammar topic. Often she also includes a music video or a video to learn more about a famous French person. I can happily recommend Cliona's classes.
There are other options for online French classes, such as on Outschool, but I didn't go that route. I was glad they were doing classes with teachers in Ireland.
Stories to listen to
In addition to classes, I want my children to be enjoying a story in French each week.
After a few years of Mimi's my children really enjoyed listening to the free French stories at The French Experiment, some of which have entertaining videos. They would listen one day to the story in English and the next day to the story in French. They are not fans of listening to the same story repeatedly, although I know others have had success with that. We also signed up for two months to their paid site The Fable Cottage which has more stories, some with videos.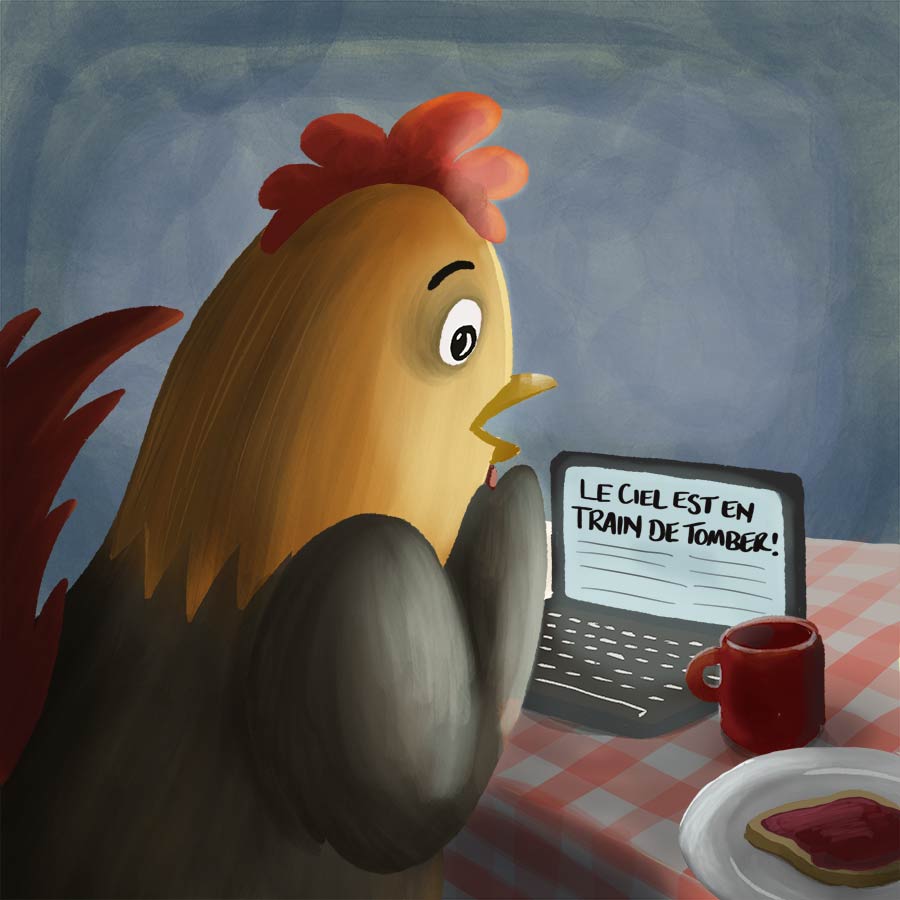 Stories to read
Fluency matters have highly comprehensible French readers which they market as absolutely perfect for beginning language learners. The stories have low word counts and lovely illustrations on every page. My daughter is enjoying reading Edi l'éléphant online. (Sample of the inside of the book) The e-book course, which costs $6, includes a few short, optional, comprehension questions for each chapter, and you can listen to the story being read as you read the page online, if desired. They have a selection of readers in French, Spanish and German, which you can see here. It is used in Charlotte Mason Institute's Alveary's French curriculum.
Using the library's Encore system advanced search you can select French in the language drop-down box and find books written in French. Our local library has books written in both English and French. As I can't read French this wasn't usually an option for me. But when we have visitors staying who can read French then I pick some up.
Alliance Française offers French classes. We didn't use them because the location would be challenging for us. They have a library of books, as well as other materials like DVDs, for both adults and children. Their library is a paid subscription, but if the location works for you, do check them out. We have attended some of their events, such as children's theatre shows in French and Christmas carols in French. These have been lovely experiences for our children.
I try to include those books that we have actually used, but I will mention the Easy French Reader (Amazon, Book Depo). It is currently sitting on our bookshelf, as I realised it was a little too advanced when it arrived, but I hope to use it in the next year. It is in three parts, and the second part describes episodes from the history of France, and biographical sketches of famous personalities such as Joan of Arc, Napoleon and De Gaulle. I like the idea of my children learning about French history in French as they learn the language. The book has an audio app to listen along, as well as comprehension questions.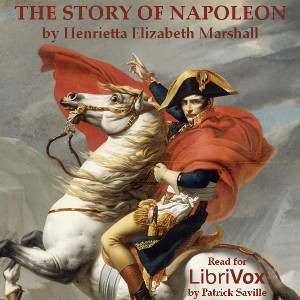 We have read some French history in English. We enjoyed H. E. Marshall's Our Island Story (UK history) and seeing her story The Story of Napoleon on Librivox (free audio books) we listened and enjoyed it. And we have learnt some in Story of the World too.
Songs in French
Learning a song each term or each month is common in Charlotte Mason curricula. People have very different preferences for children's music, and there are so many options, whether on YouTube, French learning websites or in the library. Mimi's French also sells some French songbooks. I am trying to focus on resources for those in Ireland, so I will just say mine have enjoyed learning some songs.
Later, in curricula such as Charlotte Mason Institute's Alveary's French, children memorize poems in French, one per term. Alveary includes audio files on SoundCloud for the poems.
Phonics app
From a recommendation in an email from Mason à la Maison I downloaded an app for French preschool age children to learn French phonics – Apprendre à Lire – Syllabique – which had an owl reading a book. The first part was free and the latter part was a few Euros. I think that specific app is now off the store but I am sure there are similar ones. Despite the silent letters at the end of French words, and given the short amount they spent on the app – a few hours in total as 10 minutes a day for a few weeks, I actually felt this was a worthwhile exercise. Each sound, and then practise for the sound, had lots of nice pictures and lots of vocabulary. Mine were a few years older than preschool age, but it worked just fine.
What didn't work for us
Originally Mimi's French only went up to age 8, so when my daughter was 9 I was looking for another option for a while. She tried Duolingo for a few months, 10 minutes a day. It seems to mostly be recommended because it is free. Unfortunately, it felt like she didn't learn anything with Duolingo.
At the beginning of Covid, Rosetta Stone offered a long free trial. I have heard positive things from others using Rosetta for high school, and may relook at it then. For primary school, I am not so sure, at least for us. Both of mine spent hours on it, remaining in Unit 1. They got frustrated with the speech recognition technology, which seemed to have difficulty with their voices, not accepting what they were saying one minute and then going green when they had made a noise in frustration. I was glad I didn't pay €199 for it right now.
I also bought Classical Academic Press' French for Children Primer A Program. It says from 4th grade, but each DVD lesson is an hour long, which was much too long to just sit and listen with attention, and they didn't lend themselves to easily breaking up. It all just felt too much for 4th grade level. (Whereas we are enjoying Classical Academic Press' Writing and Rhetoric curriculum). However, it does have a Pronunciation Wizard section in the intro (which you can see in their sample See Inside on their website). That section would give an idea of what we got from the app I mentioned above.
Charlotte Mason in French/France
Mason à la Maison is an American mom home educating in France using the Charlotte Mason approach. She has weekly resources for learning French. Her blog is written in English.
If you would like to learn about Charlotte Mason in French, or read her volumes translated into French, you can at Charlotte Mason French.
Admire et fais tiennes… is another Charlotte Mason in French site. I have not used it, but am including it for those who are further along in their French than we are.
Click here to Subscribe and I will let you know when I put up new posts, about once a month or so. Ensure you click the confirmation email to complete the process in order to receive emails.
Au Revoir!