Irish Living Book list – Chronological Overview of Irish History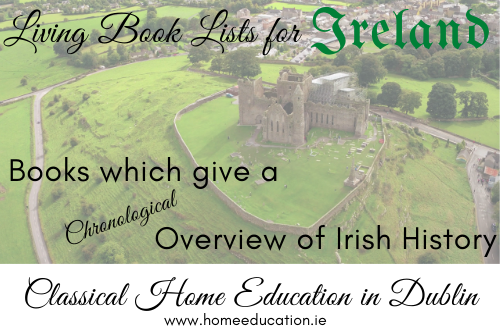 This is the second post in what will be a series of posts listing living books for Irish home educators with children of primary school age. Reading quality books is an important part of a Charlotte Mason education, whether snuggled on the couch reading aloud together or reading to themselves. I was looking for living books – high quality books, engagingly written with beautiful, realistic and accurate illustrations. I had difficulty locating living books set in Ireland and could not find a comprehensive list, so I am slowly creating such a list on this website to share with you. This post is focusing on books which give an overview of Irish history. I will also be creating lists with historical fiction for different periods, something like the helpful lists for learning British history available at Mater Amabalis: Introduction to British History and Further Reading – British History.
The books included are going through history in a chronological way, which is the approach taken in Classical and Charlotte Mason styles. This is different from the current Irish primary school curriculum. Teachers can pick from a few periods for the children to study during the year. These can be in any chronological order, and depending on the school, may not give an overview of the arc of history. I have not found any Irish primary school books helpful for a chronological overview, thus there are none listed below.
This is straightforward when you have one child. If you have multiple children, you have a choice of having each child starting at the beginning and working through so each child is studying a different period of history (as in Ambleside Online, MODG), or adding each child in to the period that the oldest is in, when they join lessons and teaching them together, sometimes with the same book, sometimes with additional more detailed books for older children (as in Simply Charlotte Mason, Alveary). I preferred the latter for my family. I love giving my children hands on learning and in Ireland we have so many opportunities to go and see places and items from every age.
To make it easier to compare the books below, where it is difficult to see inside, I have tried to scan in the contents and a few pages from each book about the coming of the Normans and Strongbow, so you can get an idea of the style of writing and the illustrations. You should be able to click on the images, and open them in a new page, or zoom in to read them if needed.
I do want to say Charlotte Mason would encourage a child to immerse in and enjoy a particular period of time, often through reading a historical fiction living book set in a period, and visiting museums and historical places. In future, I will curate suggestions by period.
Suggestion for a Brief Overview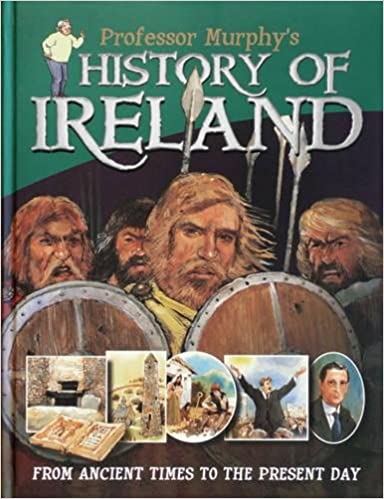 The book Professor Murphy's History of Ireland by Duncan Crosbie (Amazon, library, 64 pages) is out of print, but there are plenty of second-hand copies, e.g. at Abebooks. I think it is a short, well written overview of Irish history. Every page is beautifully illustrated with watercolour. The images on the cover are some of those included inside.
Often parents want to read a short overview of Irish history, either because they are trying to refresh their memory, or, because they have not had an overview before, perhaps because they were, or are, living abroad. I would recommend this book to read for a brief overview. It is suitable for both you and for your children. There are lots of copies in the library and on second hand sites.
Chronological Overview of Irish History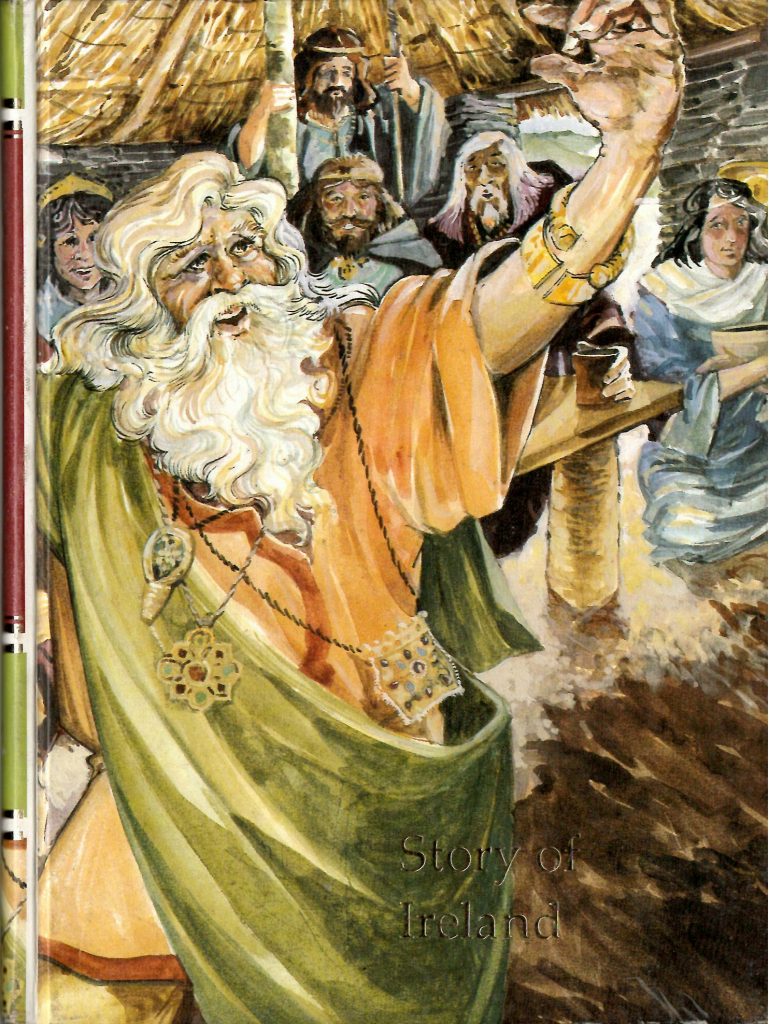 Childcraft Story of Ireland This book is out of print, but shows up regularly in charity shops and is in the library (Amazon UK, Abebooks, Library). It is a thick book, 153 pages, with every page beautifully illustrated in full colour. It is a lovely book to read aloud, but will take quite some time. I own this and we have only worked about a third of the way through it so far.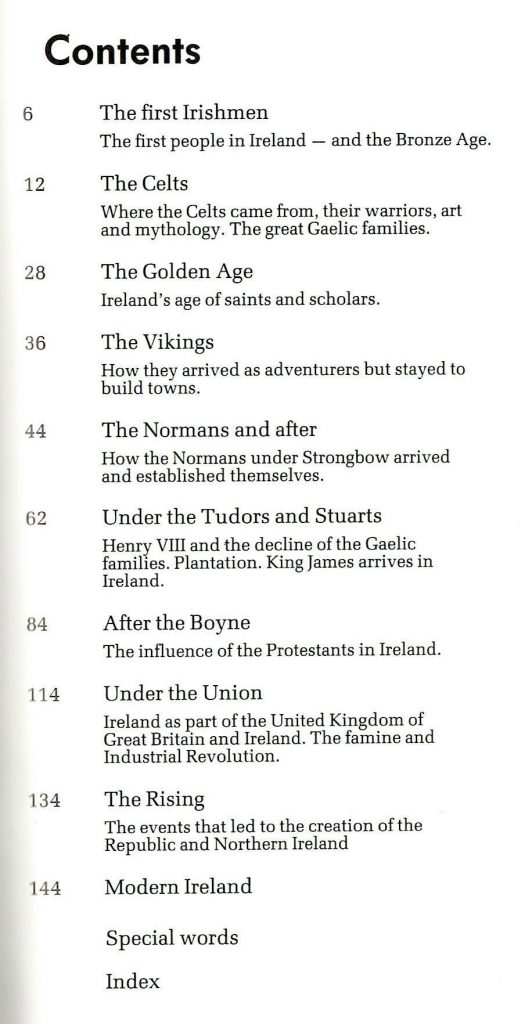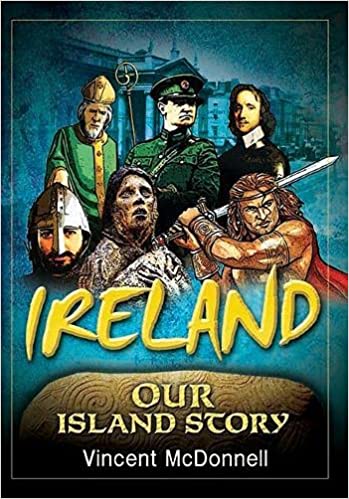 Ireland – Our Island Story by Vincent McDonnell (Amazon UK, Book Depository, library) This inexpensive book is a living book and easily available new. It is 169 pages. I do wonder if perhaps he named it based on the popular UK history book used on many Charlotte Mason curriculum booklists: Our Island Story by H E Marshall. It is certainly a similar style. Although it says illustrated, it is just a line drawing at the start of each chapter. It is shorter than the Childcraft book above, and than the other books below. While a child who can't yet read could easily listen to the story in the Childcraft book while looking at the pictures, I think that Ireland – Our Island Story would be more for slightly older children, perhaps age 9 and above.
~ I have requests for suggestions for books for families who are living abroad and who have Irish heritage and would like themselves and their children to have an overview of their heritage. I think that the above three books would be good suggestions for those families. The books below go into significantly more detail. ~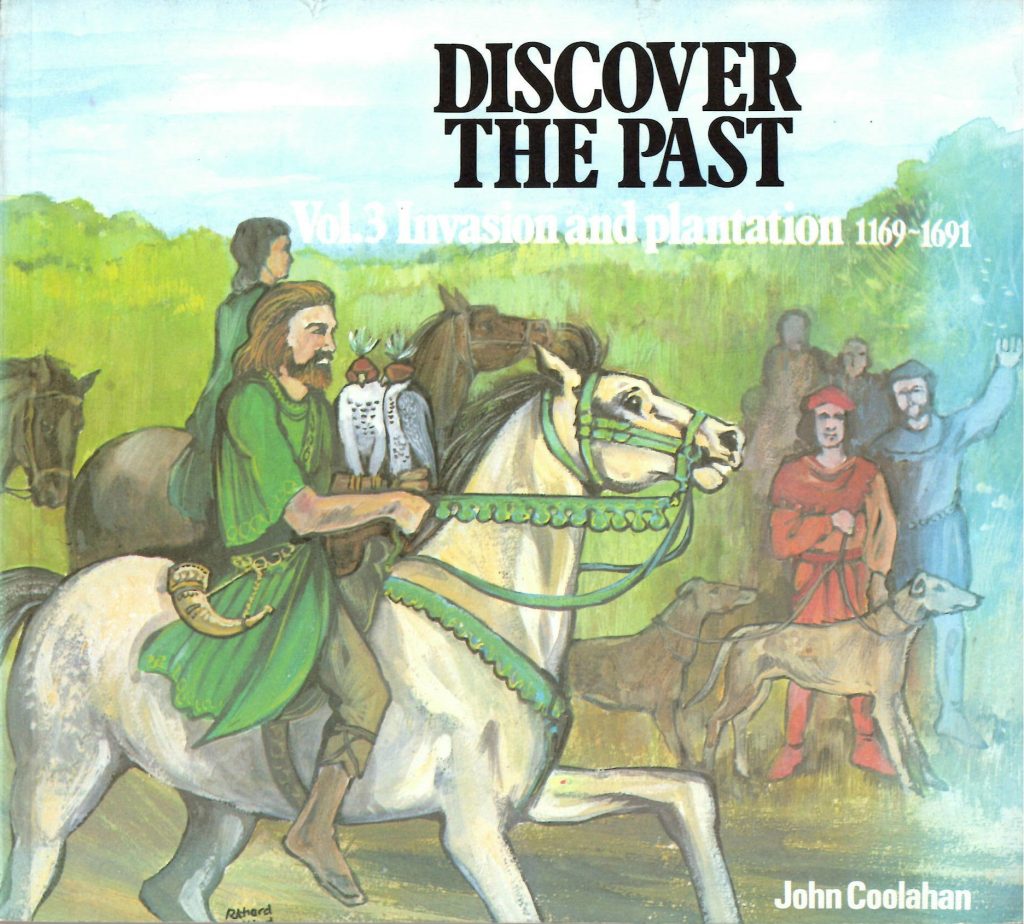 Discover the Past: This is a four volume set of books, with 80-100 pages per book. It is well written with clear, detailed illustrations on every page, although mostly in black and white. I have read some of volume 3 to my children who have found it interesting and engaging. It brought up lots of curiosity and questions.
In September 2021, Mater Dei Education is starting supports for classical homeschoolers in Ireland with dedicated personal support, learning resources, lesson plans and books. They have reprinted the Discover the Past history books by John Coolahan. They are offering a package that comes with one volume of the reading book Discover the Past as well as a student workbook, answer key and weekly history lesson plans on their app with suggested poetry and literature. I have purchased their volume 4 package to use alongside our Story of the World Volume 4 this coming school year. As I write this I have not yet received my package, so I have not seen more of the student workbook than can be viewed in the sample on their site, so I am not sure if we will use the student book yet. Mater Dei's suggestion is to use one volume per year over 4 years, starting in 3rd class.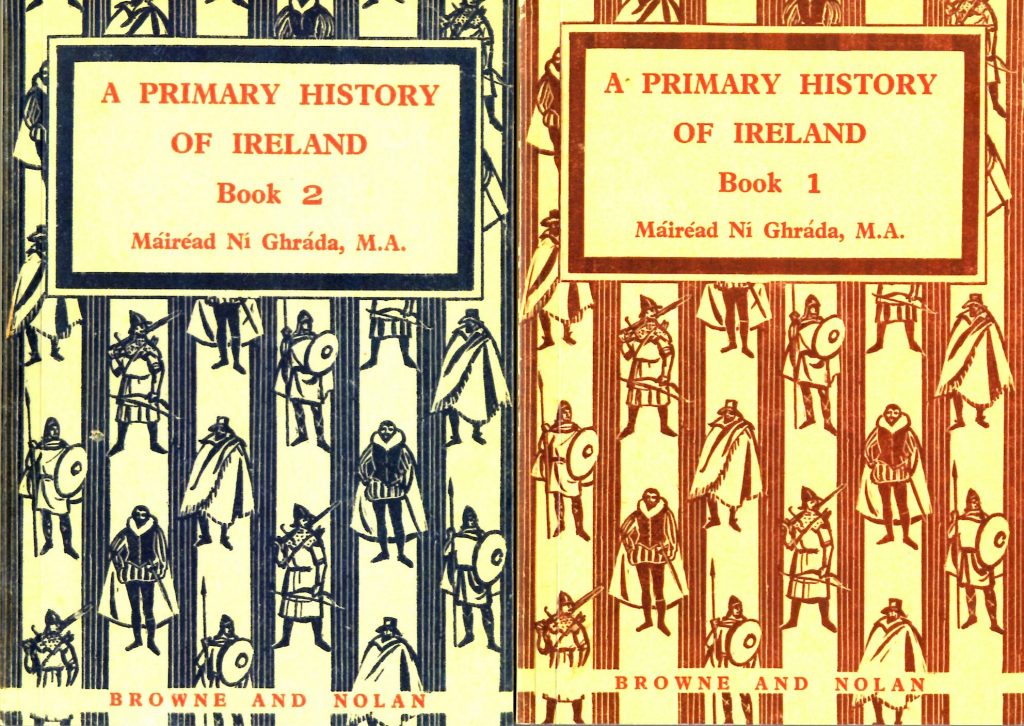 In 2020, a home educating mother reprinted A Primary History of Ireland, a two volume work of Irish history by Máiréad Ní Ghráda (author of Progress in Irish and many other books in the Irish language). It is 287 pages in total. While they are not currently available to easily purchase, I know a lot of families have them and are using them. The books provide a chronological history of Ireland from prehistoric times to 1949. They are ideal for children from 3rd to 5th or 6th class, and a great guide for older children or parents with gaps in their knowledge of Irish History. These small books are concisely written with lots of relevant black and white illustrations, as well as detailed maps which support the information. Many chapters make suggestions of places to visit around the country to tie in with particular lessons, often including what you can see from the chapter in the National Museum in Dublin. They also include things to do. The back of each book has a list of dates to remember. The books include a lot of names in Irish, and as I can't speak Irish I personally found parts of the book quite challenging to read aloud. Although I found some chapters too concise for us, I think it is a good choice. Also, because it is shorter while still being thorough, it may be a better choice if you are adding Irish history to a US curriculum rather than replacing American history with Irish history. The content could be sensibly spread out over 2 or 3 years.
More Options
The above books are ones we own and where I have read at least some of the book to my children. Other home educating parents have suggested other books that they have used, which I am including below.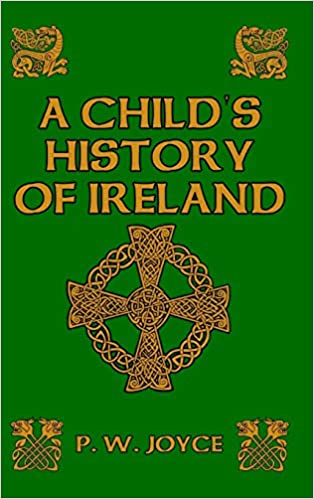 A Child's History of Ireland by P. W. Joyce (Amazon, Free to read at Archive, Library) Jennifer Kehoe recommends this book in her history video. I have not used it, but am including a link to the book and Jennifer's video in case it is useful to you.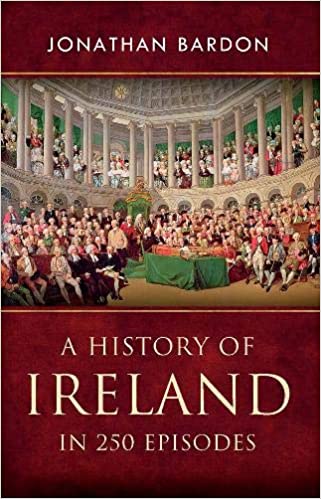 A History of Ireland in 250 Episodes by Jonathan Bardon (See inside at Amazon, Book Depository, Library) Another home educating mom is using this, saying she found it fairly compelling even if some editing may have been sensible in parts, such as the descriptions of the Battle of Clontarf.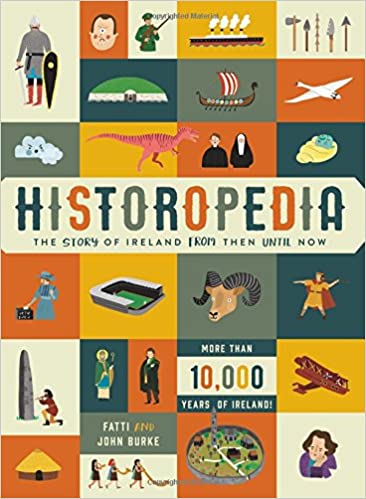 Historopedia: The Story of Ireland From Then Until Now by Fatti Burke and John Burke (Amazon, Book Depository, Library) Jennifer also mentions this in her history video. Like her, I don't like the illustrations, and I also don't like the oversized size. For me, the writing is too short and choppy to use this book as a read aloud. I definitely think John Coolahan's book above is better to read aloud. I did think the timeline for the last 100 years at the front of this book was interesting and every page has a timeline at the top.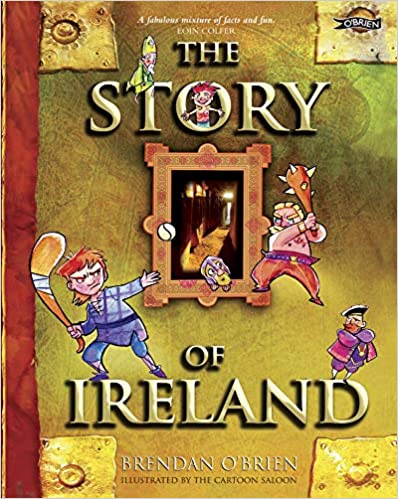 The story of Ireland by Brendan O'Brien (See inside at Amazon, Book Depository, Library) I haven't used this book. I don't get my children to do a lot of worksheets, but if you are looking for worksheets, the publisher, O'Brien, has a variety made to go with this book under Resources on their website.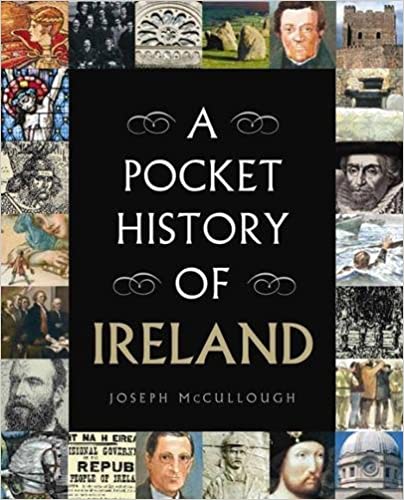 A Pocket History of Ireland by Joseph McCullough (Amazon, Book Depository, Library) This very small, pocket sized book is by the same publisher as the Professor Murphy's History of Ireland book I suggested at the beginning of this post and includes many of the pictures from that book, at a much smaller size. I haven't read it. It is often in Easons for €5.
A History of Ireland Part 1 and Part 2 by J.J, Feeney This book is out of print, but it is available in the Library. It was recommended by another home educating mom. It was a school book previously and has some discussion questions at 3 points in Book 2. I felt this book was too detailed for us. It may be more suitable for a teen.
The two volumes A Short History of the Irish People Book 1 and 2 were recommended by a home educating mom with adult children (Library). She feels these really good books, which were used at second level in the 1950s, would be suitable for younger children interested in history.
Two long time Irish home educators recommend two different old school textbooks they had: Ages Ago and Past Times. Both are really lovely, quite different from each other, but unfortunately neither are possible to acquire now.
What didn't work for us
I find it helpful when others mention both which books worked for them, and also which didn't. So I am including a section for what didn't work for us.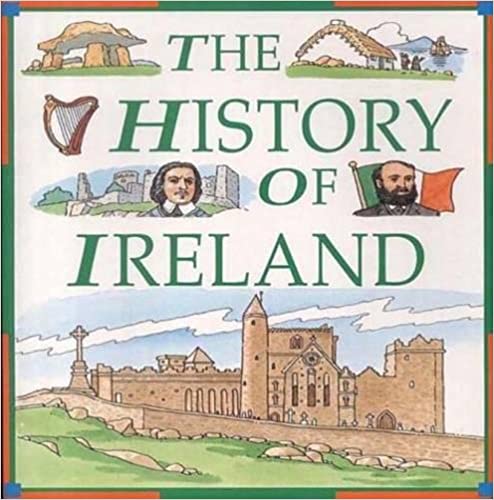 Other Chronological books
The above books provide a chronological overview of Irish history. There are some other books, which are chronological in their layout, and go through the various eras, but have a different focus, for example, focusing on maps, focusing on a particular city (Dublin) or on the Catholic religion in Ireland. I thought it would be helpful to include these on this page.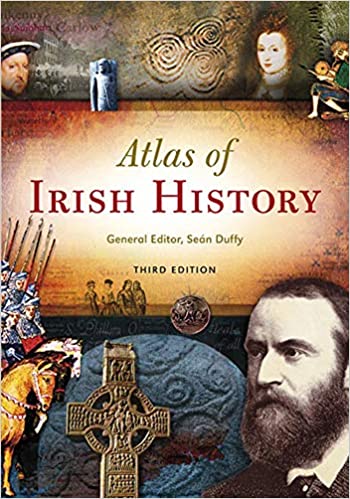 Atlas of Irish History by Sean Duffy (Amazon, Book Depository, Library) This book is more suitable for older children. It is full of maps and but would be useful from 5th/6th class on. The Concise History of Ireland also by Sean Duffy (Amazon) includes many of the maps in the Atlas of Irish History. It may be worth comparing them in your library before deciding which you want to purchase.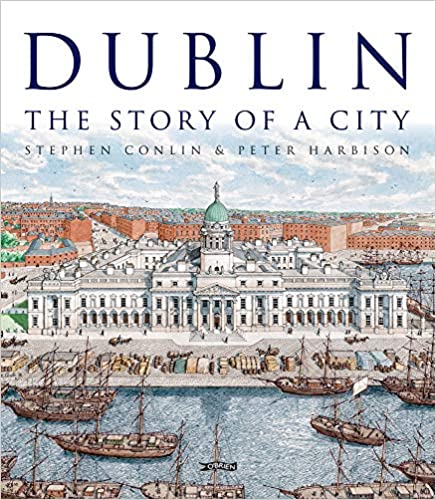 Dublin: The Story of a City by Stephen Conlin and Peter Harbison (Amazon, Book Depository, Library) This book was recently recommended to me by a home educating friend because of its gorgeous pictures. The book starts in Viking times and includes pictures of people from different times and of buildings in their context.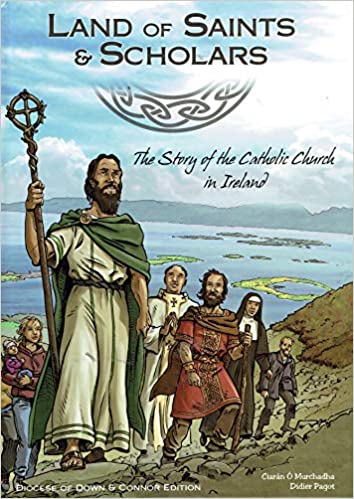 Land of Saints and Scholars: The Story of the Catholic Church in Ireland by Ciarán Ó Murchadha (Pigeonhouse Books, Amazon, AbeBooks, Library) The title clearly describes the book, which is mostly a comic book style. Some Catholic families have recommended this book, so I thought it would helpful to include. I recommend reviewing the last two pages before handing it to your children.
Games
I thought I would include this game I came across which tests your knowledge of the full arc of Irish history.
Irish Quest Trivia board game – The cards are also available as a pdf download.
…
I hope this list supports you in enjoying quality books! Please let me know if there are other living books you think should be on this list.
While I sort out other lists, do see if Jennifer Kehoe's Irish children books on Pinterest is helpful or Gill books. Museum bookshops also often have lovely selections.
Click here to subscribe and I will let you know when I put up new posts, about once a month or so. Ensure you click the confirmation email to complete the process in order to receive emails.