The Hutchinson Treasury of Stories to Read Aloud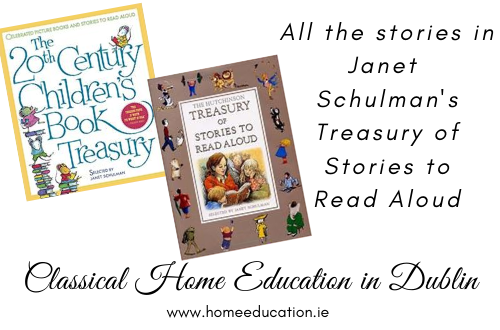 I wanted to recommend the book The Hutchinson treasury of stories to read aloud selected by Janet Schulman. 
This book was previously been printed under the title The 20th-Century Children's Book Treasury.   The content is the same.
This book contains many books which are recommended on various US curriculum.  It used to be on Sonlight's PreK curriculum for families abroad to reduce shipping.  Many of the stories would be nicer in their original single book per story format, but this is a great option to read them first to see if you and your children enjoy them.  There are lots of copies of this book in the Irish libraries – 54 apparently (library link 1, library link 2, Amazon UK link 1, Amazon UK link 2, Amazon UK link 3, Book Depo).
I could not see which stories this treasury contained before I got it, so I typed the list up to share with you in case your looking for one of these titles and don't even realise it is in your local library…
Madeline by Ludwig Bemelmans
Chicka Chicka Boom Boom by Bill Martin, Jr., and John Archambault
Swimmy by Leo Lionni
A chair for my Mother by Vera B. Williams
Goodnight Moon by Margaret Wise Brown
Mister Magnolia by Quentin Blake
"The letter" from Frog and Toad are Friends by Arnold Lobel
Freight Train by Donald Crews
Make Way for Ducklings by Robert McCloskey
A Million Fish … More or Less by Patricia C. McKissack
A Boy, a Dog and a Frog by Mercer Mayer
Millions of Cats by Wanda Gag
Avocado Baby by John Burningham
Alexander and the terrible, horrible, no good, very bad day by Judith Viorst
Curious George by H.A. Rey
I hear, I see, I touch by Helen Oxenbury
Miss Nelson is missing! by Harry Allard
Titch by Pat Hutchins
Where the Wild Things Are by Maurice Sendak
"The Sat Club" from Jenny and the Cat Club by Esther Averill
Sylvester and the Magic Pebble by William Steig
Good Night, Gorilla by Peggy Rathmann
Mike Mulligan and His Steam Shovel by Virginia Lee Burton
Stevie by John Steptoe
The Tub People by Pam Conrad
In Which Pooh Goes Visiting and Gets into a Tight Place by A. A. Milne
Bedtime for Frances by Russell Hoban
The Stinky Cheese Man by Jon Scieszka
The Story of Babar by Jean de Brunhoff
Can't you Sleep, Little Bear? by Martin Waddell
The Elves in the Shelves by Joan Aiken
Ten, Nine, Eight by Molly Bang
Stellaluna by Janell Cannon
D.W. the Picky Eater by Marc Brown
Petunia by Roger Duvoisin
First Tomato by Rosemary Wells
Amelia Bedelia by Peggy Parish
I Am a Bunny by Ole Risom
Harry the Dirty Dog by Gene Zion
Whose Mouse Are You? by Robert Kraus
Owen by Kevin Henkes
The Story of Ferdinand by Munro Leaf
The Queen's Knickers by Nicholas Allan
The Story of Little Babaji by Helen Bannerman