Irish Artist Study – Harry Clarke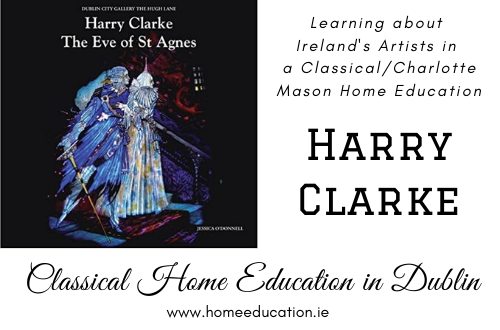 The first Irish artist that we studied using the Charlotte Mason method of Art Appreciation (more info on this method here) was Harry Clarke (1889 –1931) a stained-glass artist and book illustrator. This turned out to be a great first choice artist for us.
The Eve of St Agnes at Hugh Lane Gallery
I had seen his stained glass artwork The Eve of St Agnes at the Hugh Lane Gallery, Dublin. I would suggest this as one of the artworks to study by Harry Clarke:
Unfortunately, the quality of the digital image is quite poor. This is a very detailed image, basically a collage of many images. I recommend discovering it with the beautiful book 'Harry Clarke The Eve of St Agnes' by Jessica O'Donnell, available for €8 from the Hugh Lane Gallery's amazing bookshop (I highly recommend a browse in it after a gallery visit!). Each page shows just one panel, with a relevant line from the poem of the same name upon which the artwork is based, and a brief description about the artwork panel suitable for reading aloud. There are also pages briefly discussing the artist, the creation of stained glass and art ideas. We took our time reading this book, a page a day. (The book is not available at Amazon UK. There are copies in the library. To order your own copy you need to contact the Hugh Lane Gallery Bookshop: email gallerybookshughlane@gmail.com or telephone +353 (0)89 2202855).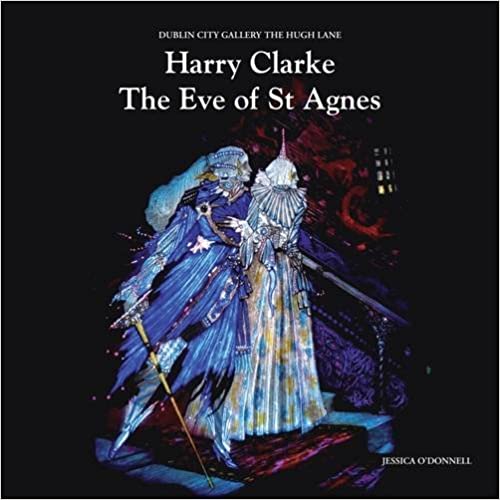 Hugh Lanes also has a page about Harry Clarke and this artwork here and a downloadable pdf with an activity based on the artwork and a colouring page of sea creatures from the artwork.
Jessica O'Donnell, Head of Education and Community Outreach at Hugh Lane Gallery, has an interesting 36 minute Coffee Conversations talk about the Eve of St Agnes with images recorded during Covid on Youtube which I enjoyed listening to.
Harry Clarke's illustrations of Hans Christian Andersen's Fairy Tales
I also took the book Hans Christian Andersen's Fairy Tales illustrated by Harry Clarke out the library (Amazon UK, Book Depo, NGI, Library). This includes prints of eleven colour paintings currently in the National Gallery of Ireland, as well as colour and black and white drawings scanned from the original 1916 book. The original text has been edited for a modern audience. The colour prints are 20cm x 14cm so a good size for picture study. We read the whole book.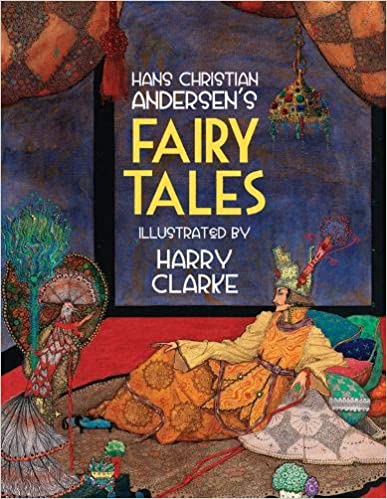 If you wanted to select five artworks from this book, to make the usual six used in a Charlotte Mason study after studying The Eve of St Agnes, these could be an option:
The above 5 artworks are occasionally available as a set of 10 Notecards, 2 of each design, from the National Gallery of Ireland's shop.
Alternative artworks to study
Alternative options to one or two of the above, in the National Gallery, could be:
The Victorian Web has less well-known images of Harry Clarke's work which can be viewed online. Each image is linked in the works listing here and includes: Our Lady, Madonna and Child, Mr Gilhooley by Liam O'Flaherty (from the Geneva Window), A Musician, Meeting of St. Brendan with the Unhappy Judas, The Godhead Enthroned., Consecration of St Mel, Bishop of Longford by St Patrick., St. Bridget, St. Patrick, St. Columba (Colm Cille), St. Gobnait, St. Ita, St. Fin Bar, St. Albert of Cashe, St. Declan and St. Brendan.
Crawford Art Gallery in Cork also has artwork by Harry Clarke.
In addition to seeing his artworks in the Hugh Lane, Dublin, the National Gallery of Ireland, Dublin, and the Crawford Art Gallery, Cork, there are examples of his art all around Ireland. These are listed by county in the menu bar of the harryclarke.net website.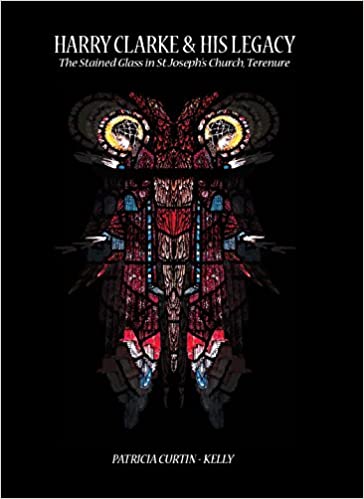 The Roaring Water Journal has a post about Harry Clarke's stained glass depictions of St Brendan here with the poem 'Saint Brandan by Matthew Arnold'. I don't know the blog but I enjoyed this post's images and descriptions.
Further Reading
There is a Harry Clarke Colouring book (at Easons, Out of stock on Amazon, Go to Amazon USA to see the colouring pages inside). One pdf colouring page from the book can be downloaded from the publisher here. We did not use this.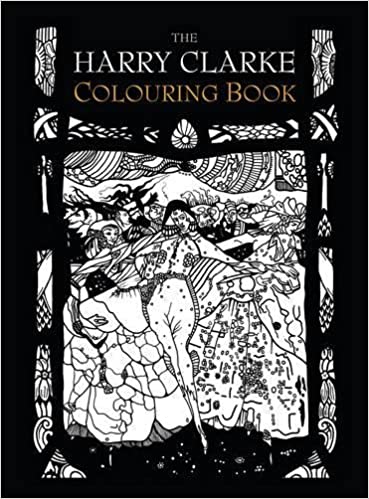 When libraries reopen I am looking forward to looking through some of the adult books about Harry Clarke:
Strangest Genius: The Stained Glass of Harry Clarke by Lucy Costigan and Michael Cullen (2010, Amazon UK, NGI, Library). This book documents the entire stained-glass collection of Harry Clarke. Not all of his work would be child friendly.
Harry Clarke and Artistic Visions of the New Irish State edited by A. Griffith, M. Helmers and R. Kennedy (2018, Amazon UK, NGI, Library)
Dark Beauty: Hidden Detail in Harry Clarke's Stained Glass by Lucy Costigan (2019, Amazon UK, NGI, Library). This book focuses on the minute detail in Harry Clarke's stained-glass windows, particularly in the borders and lower panels of his work.
See inside video
I share about using a Charlotte Mason Approach for studying Irish Artists and you can see the inside of some of the books described in this post, in this video.