Irish Living Booklist – Poetry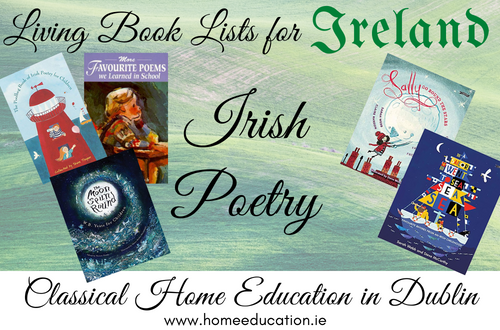 We enjoy reading a poem or two aloud together every day. I spent time looking for some Irish poetry books, and I wanted to share with you the ones that worked for my family. I know you see fancy poetry tea times online, which can be lovely and a treat; but don't let that stop you from just easily enjoying reading a poem or two every day, which is easier and more sustainable.
We also read a page from a nature book – see my post Beautifully Illustrated Irish Nature Books to Enjoy One Page a Day.
I try to start my posts by thinking about my why; my intention for including this in our day. I think Amy from Around the Thicket puts it so nicely in her summary: "Charlotte Mason loved poetry and was a poet herself. Her writing is filled with quotations from poems, often without any mention of the poem or the poet. She frequently draws on these lines from other people to make her point or illustrate an idea or simply to inspire the reader. This in itself gives us an idea of why to include poetry in our homeschools: it helps us and our children develop a wide base of phrases with which we can express ourselves, it inspires us, encourages us to think deeply and meditate on ideas.
In many ways, writing poetry is a deep form of narration, grappling with ideas and events in a profound way. But how do we get ourselves and our children into a place where lines of poetry roll off the tongue, where we turn to writing verse when we really need to think through something?
I don't think there is a magical method here. We can include poetry as part of our memory work, but more important than that is to simply read it out loud with your family. Enjoy it."
Here are some suggestions for Irish poetry books, starting with those for younger children…
I may include referral links below. If you click through one of these and take action, I may be compensated (at no cost to you!). You can read my full disclosure here.
Sally Go Round The Stars: Favourite Rhymes from an Irish Childhood by Sarah Webb and Claire Ranson (Amazon, Library) has simple poems for younger children, and would work as a page-a-day poetry book for the first few years of school. Lovely to leave open each day on a ledge or book stand.
A Sailor Went to Sea, Sea, Sea: Favourite Rhymes from an Irish Childhood also by Sarah Webb and Claire Ranson, (Amazon, Library) is also perfect as an illustrated page-a-day poetry book for primary school children, including the first few years.
The Moon Spun Round: W. B. Yeats for Children (Amazon, Library) is a sumptuously illustrated book with poems and stories by W.B. Yeats. Perfect to leave open each day when you are reading it a page a day. It is darker than the above books.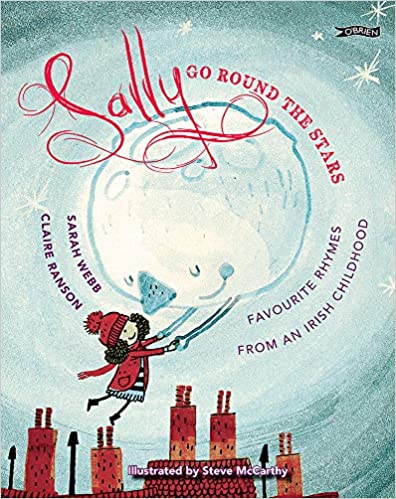 For a little older, we used The Poolbeg Book of Irish Poetry for Children (Amazon, AbeBooks, Library) by Shaun Traynor. The first two sections of this book, which were in roughly chronological order, worked well when mine were in 5th and 3rd class as part of our daily time reading together, where we each read a poem. The next section was a bit silly, and the last had quite sad poems, like describing the passing away of a brother. At the end of the book is a list of all the poets, with a short description of each.
Another book of Irish poems, for upper primary school, is Irish Poems for Young People by Bridie Quinn and Seamus Cashman, (Amazon, Library) which describes itself as a rich collection of Irish verse, aiming as providing the reader with a wide-ranging variety of styles and themes, saying "The poet's eye is like the child's eye. It has clarity, freshness and accuracy. Poetry opens our minds to the world about us – as we look at ordinary things we discover that they are extraordinary. We are invited to think and wonder about places, legends, history and – above all – people of every kind.". It has some black and white line drawings, but I wouldn't really put it as illustrated. We didn't (yet?) read this one, but it was recommended to me and the poems look interesting. I feel it would also work as a daily poem read aloud. It has 139 poems, and at the end gives one line or so describing each poet.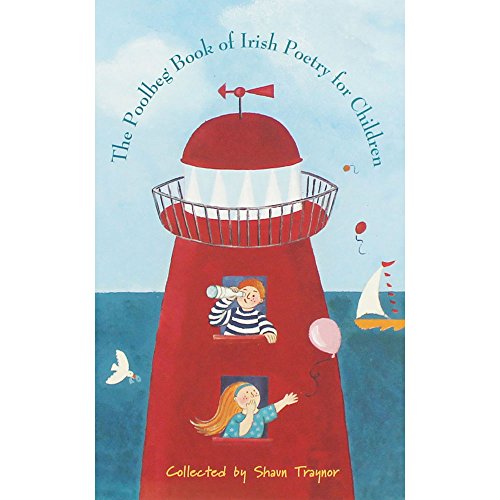 Thomas F. Walsh has Favourite Poems We Learned in School (Amazon, Library), More Favourite Poems We Learned in School (Amazon, Library) and Favourite Poems We Learned in School as Gaeilge (Amazon, Library). He also has The Illustrated Favourite Poems We Learned at School (Amazon, Library), but the illustrations are old black and white photographs, and it is a small selection of poems from the others, so I would recommend the originals. Favourite Poems We Learned in School is a combination of Irish and poems from abroad, some of which you will likely remember, even if you didn't go to school in Ireland, such as Mr Nobody:
I know a funny little man,

As quiet as a mouse,

Who does the mischief that is done

In everybody's house. …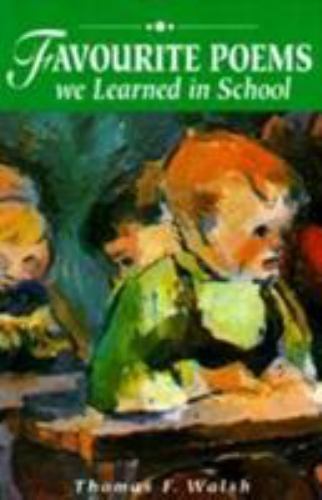 From the UK, rather than Irish, but still more local than USA recommendations, we also loved the National Trust's I Am the Seed That Grew the Tree: A Nature Poem for Every Day of the Year by Fiona Waters, (Amazon, Library) which is delightful as a displayable page a day poem book. This worked well for us. We tried the sequel, Tiger, Tiger, Burning Bright!: An Animal Poem for Every Day of the Year, (Amazon, Library) but it didn't work for us. The poems weren't as lovely as the first book.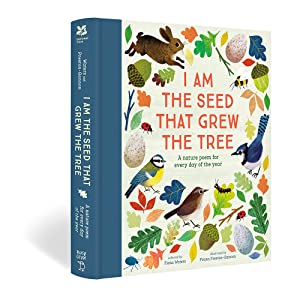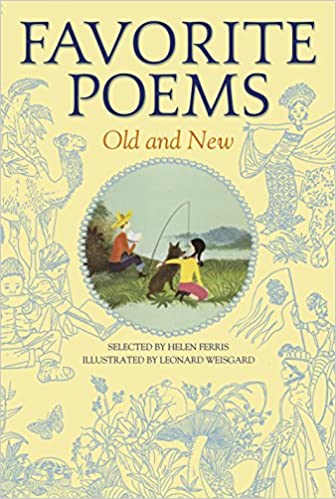 We are now back to reading from Favorite Poems Old and New (Amazon, Not in Library). This 2-inch thick classic hardcover book has over 700 poems in it, so we have been enjoying it for a long time, although we pause it from time to time. It is not Irish, but we have enjoyed using it, and it is recommended on many Charlotte Mason sites, including the Charlotte Mason curriculum we use Alveary, as well as Ambleside Online and Cottage Press, so thought I would mention it.
~ Irish home educator Catherine has a lovely post about Poetry Tea Time… ~
I trust this post inspires you and supports you in enjoying some of our beautiful Irish poetry! If you have suggestions, do let me know.
In our home, in addition to reading poetry each day together, my daughter is doing Alveary's lovely Reading & Writing Poetry course. This is a weekly lesson which they recommend starting in grade 5 and continuing to grade 8. My son will start it next year.
We also have a poet study, where we read poetry from our term's poet one day a week and get to really know him. This poet gets entered in our Book of Centuries (timeline book).
Copywork of beautiful pieces of literature is also part of a Charlotte Mason education. As my children have got older they will sometimes pick poems they have enjoyed from our daily poetry reading to use as copywork, including Irish poems from the books above.
Another aspect of poetry in a Charlotte Mason education is poetry memorisation. I look forward to creating a post on that topic in the future, featuring Irish poems. If you have suggestions, please comment below, sharing them with both me and other readers of this post.
Click here to subscribe and I will let you know when I put up new posts, possibly once a month or so. Ensure you click the confirmation email to complete the process in order to receive emails.