Visiting Peloponnese, Greece
Although this website is focused on learning about Ireland, as home educators living in Ireland one of the advantages that we have over those in America, is how much easier it is for us to access the wonderful breadth and depth of Europe's wealth of attractions.
My family headed off to Athens in September 2022 to see some of the amazing sites in the Peloponnese. I have been asked a number of times, so I thought I would share here some of our experiences for anybody else planning a trip. I'll start with some thoughts on driving, food, etc, before going through our itinerary, as an inspiration for yours, and ending with the books we enjoyed (because home educators always love books!)
Some thoughts for families
The ancient sites are full of steps and sheer drops, often with just a single rope in front. I personally would have found this a stressful holiday to do with an active toddler or preschooler. The sites were definitely not buggy friendly.
I wish we had brought some water shoes for the beach, as my daughter stood on a sea urchin in Epidaurus. We actually already had ones from Decathlon at home.
Many sites no longer have physical paper brochures or maps. You need to access them on the phone, which can be a bit awkward to read, e.g. Olympia, Delphi. However, all the sites we went to had quality information on the boards around the site in both English and Greek. My curious children did a lot of reading!
September
I am glad that we visited in September. With the exception of the Parthenon in Athens, the sites were quiet, which made for a relaxed and enjoyable trip. The sea was warm enough, but I personally found most of the swimming pools too cool by late September.
Driving
We were rather unsure about driving in Greece. However, it turned out to be just fine. The only bad experience we had was on the coast road between Olympia and Petras, which we were later told by a Greek national is the worst road in the area, so I highly recommend taking the mountain route between the two places. My husband picked the smallest car we could possibly fit four hand luggage sized bags into. This was definitely the right thing to do, as paid parking is a rarity in the Peloponnese, so we were parking, for the most part, on the street. We never paid for parking during our two weeks in Greece. We rented our car from Hertz and we were able to pick it up from directly outside the terminal building on our arrival.
One issue with using maps on the phone to find routes was the variety of ways Greek place names are translated into English, many of which cannot be found when using google maps. You can easily see three different English spellings of a town. Some signs would even include a second spelling in brackets e.g. Hercules (Herakles). (I was surprised to find Zeus is pronounced Zefs in Greece.)
Also, we learnt to add at least a third to a half again to any time estimate from Google Maps. We were driving at the speed limit, which on some roads varied crazily often. There were regular signs for speed cameras. Also, we did not know the roads, which were usually winding.
Food
We found the portion sizes to be large in the Peloponnese. We often shared a main meal between my two children, or we each picked an appetiser, which tended to be the size of a main meal. Main meals rarely seem to include vegetables other than chips, although we were able to order vegetarian meals like stuffed tomatoes or peppers.
The fruit in the shops was delicious though, including huge, juicy peaches. As we were mainly staying in apartments, we kept our costs down (I would rather stay longer!) by usually eating out only once a day and making something simple in our apartment or buying something simple, like pies. I would rather travel for longer!
~ Suggested books included at the bottom ~
This is what we did, in the hope that it will help you in deciding what you would enjoy doing with your family. I include suggestions I wish we had known. I did look at itineraries for family and adventure holidays, while making our plan.
Day One
We had an extremely early morning flight to Athens arriving midday. We collected our car and headed down to Ancient Corinth. Ironically we managed to miss seeing the Corinth Canal as I was trying to work out the satnav. Turns out we should have gone off at Corinth Isthmus!
After visiting the site we stopped at Marino's Restaurant, which we would highly recommend.
Then we headed on again to our accommodation in Tolo. We had been recommended to stay at Nafplio, which was a lovely town, but I was looking for an apartment with access to a swimming pool and the beach at a reasonable price and Meraki apartments in Tolo fitted the bill. We all liked Tolo and the staff at Meraki were lovely, including helping us when my daughter stood on a sea urchin.
Day Two
The next day after a brief wander around Tolo, we headed to Mycenae. Mycenae was larger than I expected and the substantial site was lovely to spend time in on our second day. We were all particularly impressed with the Tholos tombs, one of which is still completely intact – thankfully as we used it to stay out of a brief storm!
Part of the temple pillars have been restored and we could see a lot of the original structure of the baths. The onsite information boards explained this well.
Day Three
We did the Pegasus Cruises boat trip to Hydra and Spetses. Hydra was a sweet island where they have no vehicles. It was bigger than we expected. Unfortunately, it rained heavily for a lot of our trip. The time on the boat was overly long and I feel we would have been better to have driven to that side of the peninsula and taken a shorter trip by ferry to Hydra and skipped Spetses. We had the most expensive meal of our trip at Hydra, which was also the least enjoyable meal, and it took more than an hour to receive our food, one plate at a time. We wish we had packed some food to bring with us instead and been able to spend more time visiting the island.
Day Four
We headed over to walk around pretty Nafplio. The main square has a ruined mosque on one side and a museum on the other (which we didn't visit because I didn't want us to get "museumed out").
On the back of the map of Nafplio from Armiriki was a map of the greater area around Nafplio which allowed us to find some hidden gems, such as the Acropolis of Asini, right outside Tolo. This was not mentioned in our guidebook, but we happily spent two hours there the next day! It also included the Museum of Natural History, which we made on our way to Epidavros the next day, and this was a highlight too. If we had booked more days in Tolo (I wish we had!) we would have done more from their map.
Antica Gelateria di Roma in Nafplio was our favourite ice cream (and dairy-free sorbet for me!) shop in Greece!
Day Five
We visited the Acropolis of Asini, which was seriously damaged by Italians in World War 2 building a base, even blowing up a narrow cave entrance for a larger safe space from overhead air raids. The information signs were particularly good at this site. The entrance is right by the beach. Then we drove on stopping and spending an hour in the fairly small but excellently laid out Kotsiomitis Museum of Natural History.
Finally, we reached Epidavros. The acoustics of this amphitheatre were certainly impressive.
Afterwards, we headed down to the beach by the Sunken City of Ancient Epidaurus and had a delicious lunch on the beach at Athina Tavern and Ecofarm Shop. We saw people snorkelling, clearly looking at the sunken city, so I'm pretty sure a strong swimmer could have headed out to it. Unfortunately, as we were looking to do that, my daughter stood on a sea urchin and 13 spines broke off in her feet! I wish we had brought water shoes with us! We saw a place in Tolo offering tours by sea kayak to see this Sunken city.
Day Six
After packing up and some time on the beach in Tolo, we headed to Argos. We had lunch at Amelie. This was full of locals and the food was delicious. We had a View of the Acropolis and a beautiful church. We didn't do any sightseeing here due to my daughter's pain in her feet, but headed on to Stemnitsa, a picturesque mountain village. The next day we drove through Dimitsana. It was full of restaurants and tourist shops. We were glad we had stayed in the smaller, calmer, quainter village of Stemnitsa.
Day Seven
Our plan had been the mountain hike from Stemnitsa to Dimitsana. My husband and son went for a four-hour round-trip hike. I found it difficult trying to find information online that would give me a clear understanding of what to expect. Having seen the place, if it is possible, I think it would have been nice to hike one way and get him a taxi back. There were quite a few things along the trail including a waterfall and the monasteries looking perilously attached to the mountainsides. I'm not sure I would have been able to do the trail though because there were a lot of loose rocks making it quite slippy. If we had done the trail I think a second night would have been more sensible.
After lunch we headed to the Water Power Museum. This was another trip highlight for my children. They found it very interesting. The setting was just stunning and I took quite a few lovely photos of us here. Then we headed on to Olympia, seeing the damage from the recent forest fires along our route.
Day Eight
We stayed at Baccus near Olympia. Our plan for the day was Ancient Olympia, but as it was bucketing with rain. we made our way down to the Archimedes' Museum, which we found out about from a flyer. This unexpected museum was a highlight. Excellent guides showed us how different items worked and spent time with us at a table of puzzles, explaining them, and giving us a go trying them. The Archimedes' Museum has sister museums in Athens, Crete and Katakola, which we didn't see. We headed back to our hotel for a swim and time to relax.
Day Nine
Afterwards, we headed to Odontotos. As mentioned under driving, I recommend you take the mountain road and not the coast road. We booked our train tickets for the next day at the tiny train station. (Train timetable)
Day Ten
After a home made breakfast in our apartment and after putting our bags into our car, we headed up to catch the 9:52 train. This old narrow gauge train runs up through a deep gorge, with parts cut into the side of the mountain and had the most incredible views. It is possible to take the train up and walk back – I think the walk from the monastery stop back would make more sense as that is the deep gorge part – but we just took the train both ways.
In little Kalavrita, we visited the excellent Municipal Museum of the Kalavritan Holocaust. I was concerned it might be gory or too much, but it was well handled, discussing their suffering from the brutality of the Nazi atrocities. They had an app (Google, Apple) which included a Museum Guide, with short pieces to either read or listen to for numbered locations in the small museum, which we used, and also included a City Landmarks Guide with a route and short pieces for nine locations around the village, starting at the railroad station of Odontotos.
We drove onwards to Delphi, across the huge Rion-Antirion Bridge, with constant stunning views of the sea. We stayed in a nice mobile home in Camping Apollon, where once again we had a pool. The breakfast cereal was unfortunately stale, so we just enjoyed the fruit and eggs… and the amazing views.
Day Eleven
We had such a delicious meal at Taverna Vakhos, with its beautiful views, that we returned to them the next day.
Day Twelve
It was a bit too cool for the pool so we headed to a nearby monastery, which was closed. Then we headed to Arachova, where lots of bus tours stop. It has a variety of cute touristy shops, but we had seen plenty at this stage. The folk museum was small with a rather random assortment of things. Behind it was a free clock tower giving views. We could have stopped here for an hour on our way, rather than making a trip to it. We did get to stop to rescue a tortoise crossing the road which hissed at us at the insult!
Day Thirteen
We left Delphi and headed to the stunning Monastery of Hosios Loukas. It is a UNESCO World Heritage Site for its Middle Byzantine architecture and art. We spent quite a bit of time here looking at the different parts. Then we headed to Athens airport to give our hire car back.
Day Fourteen
Our last day in Greece. After an amusing Fawlty Towers breakfast experience, we headed up to the Acropolis for a long wait. We had bought our tickets online for the adults, children being free. When we finally got to the gate, I had to go back and stand in a ticket queue to get printed free children's tickets, while my husband stayed by security so we wouldn't be sent back to the end of that queue. I stood in the queue for real people tellers instead of the queue for the ticket machines. Shortly before I reached the teller another person wanted to get a ticket for their child and was required to go and get the child – who was playing within view and got brought over. I quickly rang my husband to send the children down – with their passports which were also required to prove we were EU citizens and therefore entitled to free children's tickets. Hopefully, you can have a smoother experience! When we came out of the very busy but amazing Acropolis, the queue was much shorter.
We headed down to the museum. There were no shops at all on the route, so we headed past the museum for an ice cream break. Then we headed back to the fantastic museum. Although a number of museums are included in the combined Acropolis ticket, the Acropolis Museum is not one of them! It is a separate ticket, with once again, a long queue – and a bag scan like the airport! However, during the wait, I read the information on the TV boards and was able to ask for the family trail. I was sent to the information desk for this and they had a variety of printed family trails, varying by age. We were given two. They were excellent and much enjoyed by my son. The children's section included an accurate and highly detailed Acropolis area in Lego. The excellent museum bookshop had a selection of adult and children's books, which I discuss below.
We took a whistle-stop tour of two more sites that were included in the Acropolis ticket. We picked up our bags from the hotel and took the train back to the airport (I had bought return tickets), where we relaxed, had dinner and arrived home exhausted, but full of amazing experiences, in the early hours.
Books we read before we went
I may include referral links below. If you click through one of these and take action, I may be compensated (at no cost to you!). You can read my full disclosure here.
Books we saw in the museum shops in Greece
Most of the main sites had a museum shop with a small collection of books in Greek, English, and other languages. The Acropolis Museum in Athens had the best collection, quite substantial. There was a lot of overlap across the other shops. Books are heavy, so while it was nice to pick up a few on our travels for mine to read while driving (if we weren't listening to an audiobook) some would have been nice to know about beforehand.
A book we saw at a few places and I thought we would buy on our return was My Greek Sweets by Ioanna Stamoulou, but actually, it can only be bought in Greece.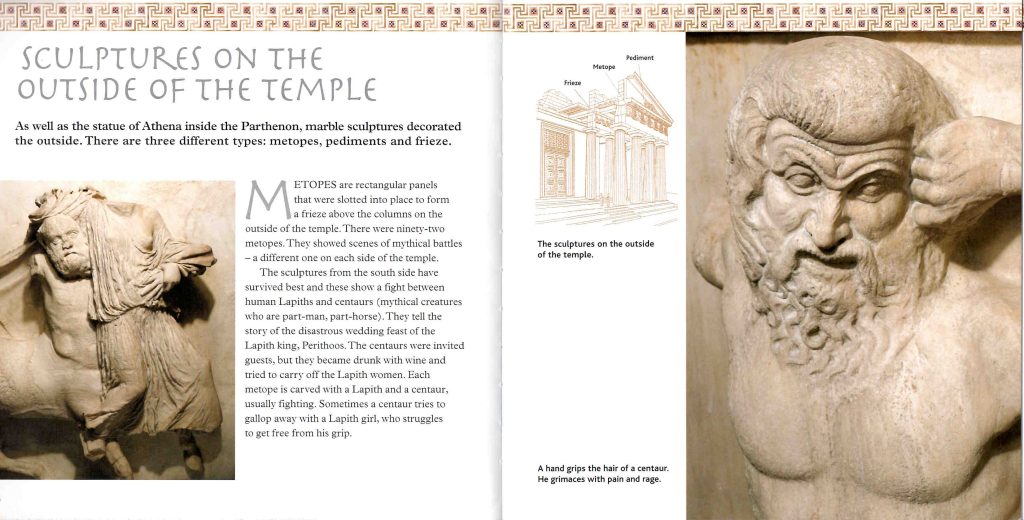 The Acropolis Museum bookshop children's English section also included, amongst others: The Myth of Persephone by Menelaos Stephanidēs (Archive), Glafki at the Athenian Agora by Evi Pini (Short Museum Guides) (Kindle), The Birds – Aristophanes for Children by Chrysanthi Karaiskou, Nights without Carrie – A Story about the Sixth Caryatid by Niki Dollis, Kymothoi's Journey by Evy Papadopoulou, Philip and the Magic Castanets – An Amazing Journey into the Parthenon Frieze by Mania Douka, Discovering the Ancient Secrets of the Olive by Vassiliki Markaki, as well as Usborne's Visitor's Guide to Ancient Greece (Amazon, Library) and Usborne Cut-Out Models – Make this Greek Temple (Amazon, ).
I hope you found this helpful and inspiring!
I would love to visit Rome in the future, so if you have suggestions, I would love to hear them!
Click here to subscribe and I will let you know when I put up new posts, about once a month or so. Ensure you click the confirmation email to complete the process in order to receive emails.