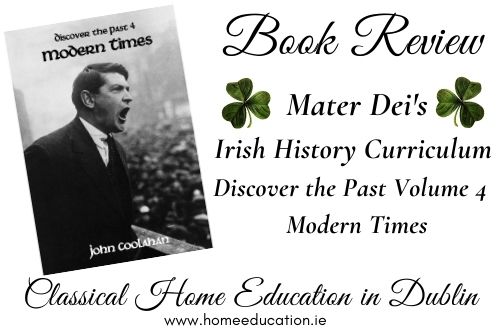 Mater Dei Education is a new Irish curriculum provider. Mater Dei was "founded in 2020 to support homeschoolers in Ireland and elsewhere discover the rich classical tradition of teaching and learning from Ireland". In 2021 Mater Dei released their Discover the Past Irish history curriculum. As they were new I could not see them before I purchased them. I only bought one of their history book sets, but it has been working well for us and I wanted to share about it.
We are using the Charlotte Mason curriculum Alveary, which we are really happy with. It has a slot for American or Canadian history, and we just substituted the Mater Dei history book into that space. This worked perfectly for us. Alveary has all the family in the same time period (they have a four year history rotation), with children working on the same books, if they are close in age, or on books of different levels if they are further apart. I am just reviewing this one book set from Mater Dei. I did not use any of the rest of their curriculum.
I bought Mater Dei's Discover the Past: Volume 4 – Modern Times: 1700 to the Present set which included the main book, the student workbook with questions, and an answer book. In addition to the printed material, there are weekly lesson plans on Mater Dei's Moodle App. The weekly lesson plans suggest which pages to read, which questions to answer and include suggestions for poems (some in English, some in Irish), Irish historical fiction for nearly every chapter and some ideas for possible field trips.
I picked volume 4 as we were starting volume 4 of Story of the World (having done volumes 1 to 3 previously) and it worked well for us to do them together. My children were 5th and 3rd grade when we did this book.
We all really liked the Mater Dei history 'textbook'. It was well written and engaging. It went into enough detail that you could get to know the people and events, while not dragging. It is more than a backbone or outline of history, as the chapters do go into some depth. I would call this a living book in Charlotte Mason terminology. I think even without the additional suggestions, just reading and narrating this book on its own would give a person a good understanding of this period of Irish history in chronological order. The book is A4 in size. There is an index at the back.
Although the pictures were mainly black and white there were lots of them and they were relevant; lots of variety with pictures of people, events, famous buildings, paintings, maps and photographs. You can see some of the first chapter at Mater Dei. Here is the table of contents and a page from Chapter 7.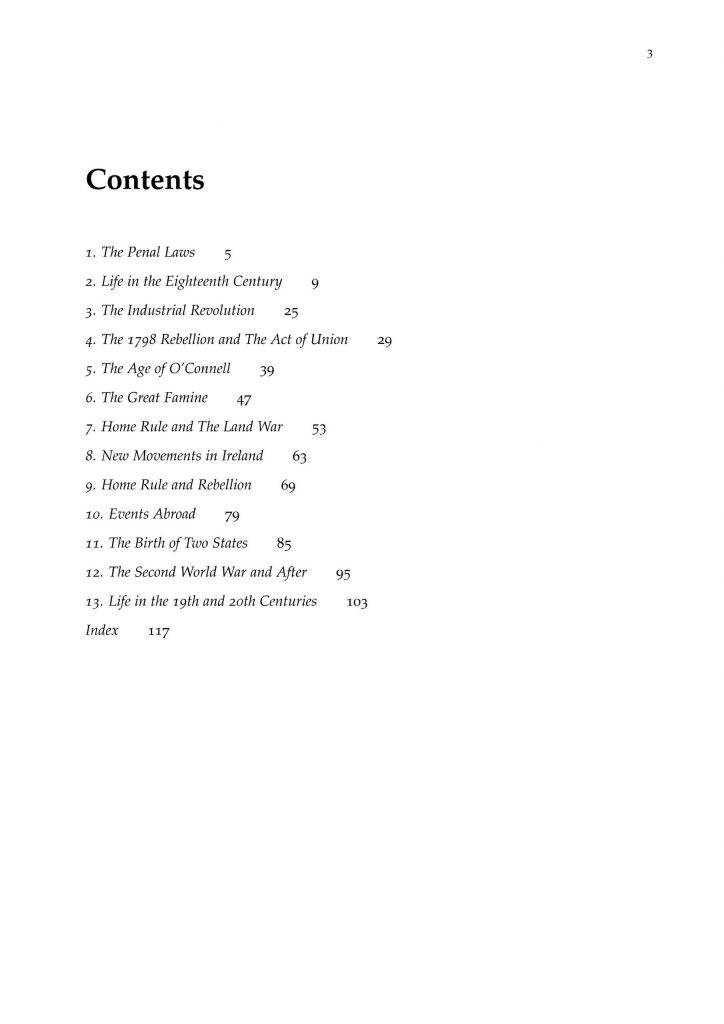 The book itself also has ten or so suggested activities titled 'Things to do' at the end of each chapter. Some of them looked nice, but we didn't really do any of them. My children took the suggestion to act out one of the history scenes from one suggestion. They would be an excellent list of ideas if you wanted to spend more time on Irish history and do more hands on or project type activities, or for a child who is very interested in Irish history. Here is the 'Things to do' from Chapter 7: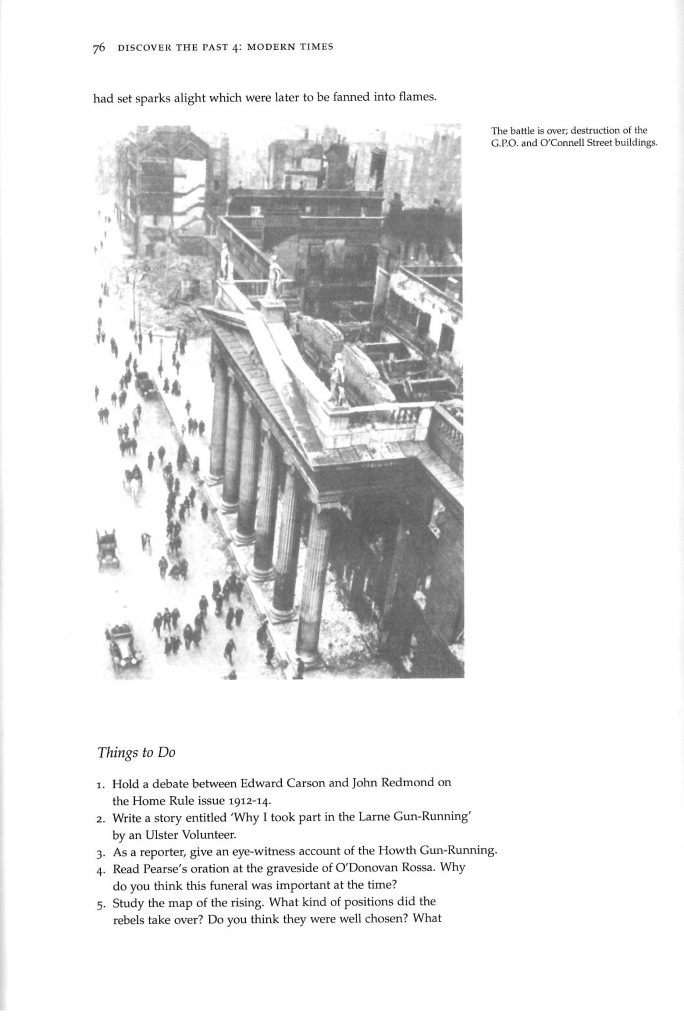 Each chapter is divided into a variable number of sections of varying length. The sections Mater Dei suggested to read each week were a sensible length, to read aloud or have a child read to themselves. Sometimes I would read the whole chapter, sometimes a long chapter would be divided over multiple weeks. We read the book together on the couch once a week, with each of us taking turns to read, and I alternate between my children giving narrations after each section. After finishing the week's reading I would ask the assigned questions orally, although Mater Dei intends the children to be writing the answers. Unfortunately, as you can see in the example below, the answer key book only has the answers, and not the question with the answer, so that involved unnecessary flicking back and forth for me.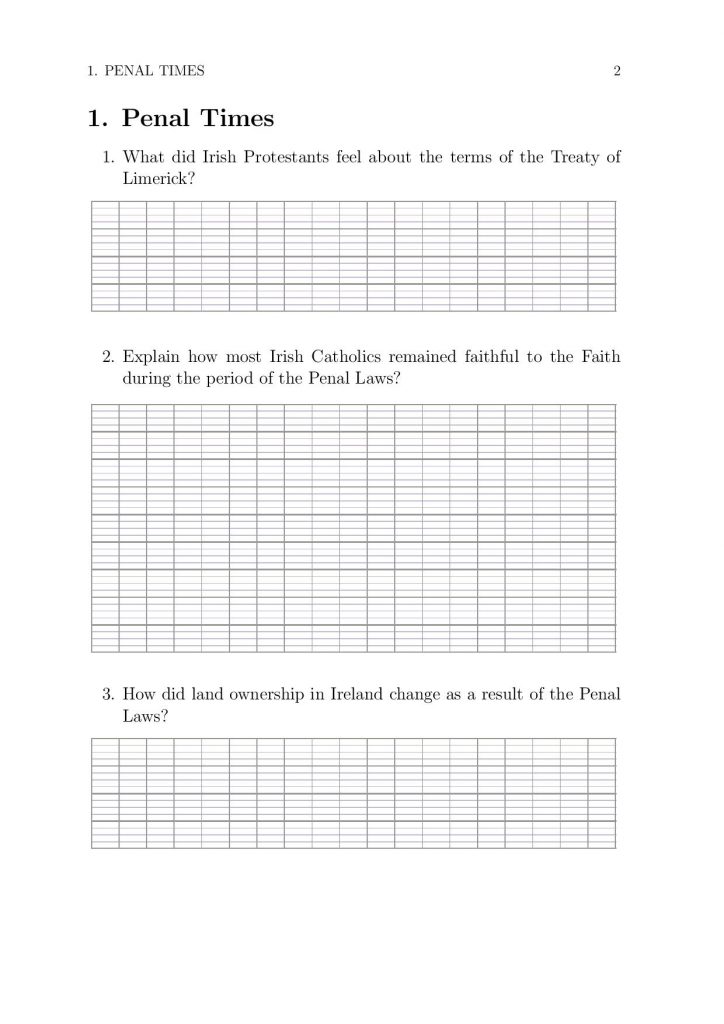 The suggested field trips included places we have been and places that I would not have known of. The list was not long, but it had places from all over Ireland.
A lot of the suggested historical fiction was from O'Briens Press, which has been putting out a lot of Irish historical fiction in the last few years, finally seeing a gap in the market. They do include others like Hedge school by Gloria Whelan which I include in my post What could I buy with my Audible credits? as you can enjoy listening to this one.
The suggested poems came from three different poetry books, but all of the poetry books were available through the library. I could not find most of the suggested poems online.
The suggested schedule is 27 weeks, so it easily fits into an academic year. I felt the formatting of the additional documents (suggested books) could have been a bit better. There could have been some information on the suggested additional historical fiction books. I did not use the Moodle App each week. I copied out the info into a word document and printed it to keep with the books, as I do not want to be distracted by my phone.
Mater Dei is a Catholic company, but I feel these books are also good for families who are not Catholic.
These books were a good fit for us. I trust this review will be helpful to you in deciding what to use.
If you are looking for other options for learning about Irish history check out my post: Irish Living Book list – Chronological Overview of Irish History.
Click here to subscribe and I will let you know when I put up new posts, about once a month or so. Ensure you click the confirmation email to complete the process in order to receive emails.